STUDIO TIME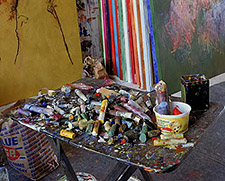 click image to run Studio Time
The night after my father passed away, I spent some time wandering around his studio, trying to absorb his presence, still fresh: his most recent works propped up against the wall, water glasses half-emptied, half-full, a roll of canvas recently cut, yet with many yards remaining.

I realized that before any of this was touched and moved, it had to be recorded, because it was already like walking inside a photograph, taking active part in a frozen moment. For 55 years there had been constant movement, and now, suddenly, there was none.
My father studied Chinese landscape painting at Princeton, was stationed in Paris after the war, where he met Picasso and painted with Jacques Villon (Duchamp's brother), returned to New York and befriended artists like David Smith, exhibited for years with Betty Parsons, collected masks and sculpture from New Guinea; it's all here.

Most of the following fifteen photographs were taken with a 4x5" field camera in the typical conditions with which my father worked: natural light whenever possible, some of it with a yellow cast due to plastic sheeting that insulated the skylight in winter, dingy light in the bathroom, his own special brand of chaos all around, which only increased in his last years as he began to lose some peripheral vision.

It is plain to see, however, that he never lost sight of what was in front of him.
- Luke Gray, February, 2005